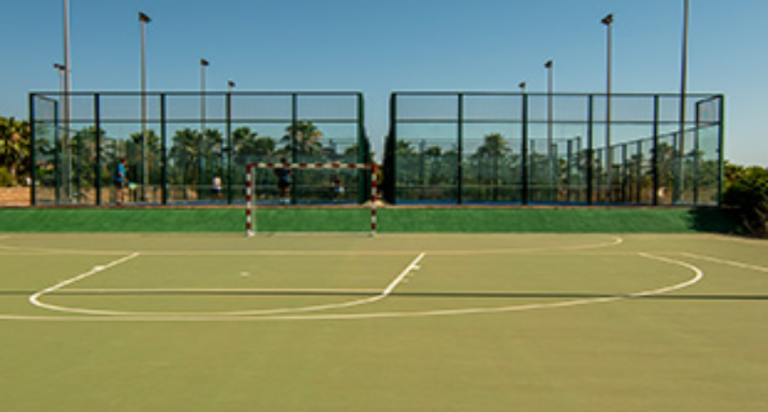 Sports Facilities On Hacienda Del Alamo Resort
Hacienda Del Alamo Golf and Leisure Resort features one of the best golf courses in Costa Calida Spain, along with superb on-site facilities including football pitches, tennis & padel courts, swimming pools, restaurants, cafes and bars.
The main sports facilities are located between the main entrance and the golf clubhouse. You will notice them on your right as you drive through the resort.
All year round numerous schemes are available for youngsters on a weekly basis.
Soccer Pitch
Rugby Pitch
2x MultiSports Areas
Basketball
Petanca Courts
4x Paddle Courts
4x Tennis Courts
You can also receive professional tennis lessons by ordering them at the sports bar facility located next to the tennis courts.
Golf facilities on Hacienda del Alamo resort
Hacienda del Alamo golf course is considered the longest course in Southeast Spain. Designed by the famous Dave Thomas, it is over 6,000 metres long, consisting of challenging holes and impressive views of the Spanish countryside.
After a good round of golf, there's nothing better than sitting on the terrace enjoying a well-earned refreshment. The Hacienda del Alamo Golf Clubhouse offers the perfect opportunity to recover your strength. Relax, eat, drink, play pool or watch your favourite football match on the television.
Due to the current Covid 19 pandemic and ongoing changes in restrictions, we are unable to guarantee that the above-mentioned facilities will be open at this time. 
---